Welcome to 
Bus Ride Basics!
Simple ways to keep you safe when riding with us.
New to riding the bus or just want a refresher on best practices? Click through the galleries below for information on how to pay and ride with LBT.
Fare collection has resumed on board all LBT buses and water taxis.
Your TAP Card is how you pay for bus service.
It works like a debit card (we call it stored value).
You can also purchase single day or multi-day passes.
When you board the bus, simply wave your TAP Card in front of the blue sensor.
Purchase your TAP Card at the Transit & Visitor Information Center, or at a TAP retail location.
Top up your TAP Card at these locations, online at taptogo.net, or by phone at 866.TAPTOGO.
Discounted TAP Cards are available for Students, Seniors and customers with a disability.
1. Try to arrive at your bus stop 5 minutes before the scheduled arrival.
2. When you see your bus approaching, please stand as near as possible to the bus stop sign. You do not have to use gestures or hand signals to indicate to the bus operator.
3. Please do not run after a bus that is driving away from your stop. Signage on the top front of the bus shows important information: the route #, final destination, and major streets on the route.
Exiting the bus
1. To indicate you would like to stop, press the black or yellow strips along the side of the bus, or pull the yellow cord above.
2. Please try to signal for your stop at least a half a block ahead of time.
3. Please exit through the rear door only.
To open the rear door, push the yellow strip on the door.
For more tips on how to ride, visit our Customer Guide.
Loading your bike
Our front bike racks are designed to hold your bike securely during the ride.
Please inform the operator you are loading your bike upon pickup and that you'll be unloading your bike as you approach your stop.
Always approach the bike rack from the curb side of the street.
Load your bike into the rack by:

1. Pulling down the bike rack
2. Placing your bike in an available space
3. Lifting and placing the clamp on your tires.
Take Long Beach Transit with you wherever you go, even if you're not on the bus.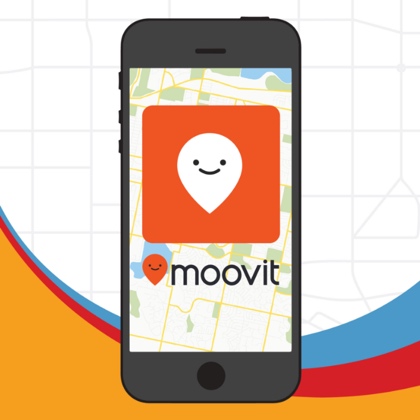 Download the Moovit App to plan your trip and travel Long Beach and beyond safely, confidently and informed.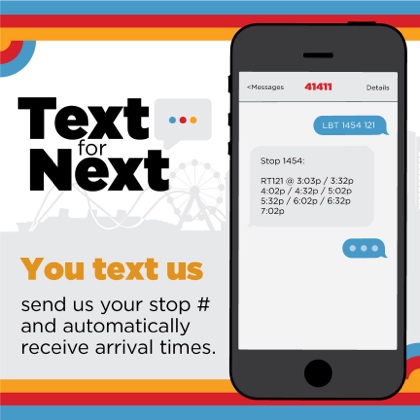 Text "LBT" plus your "stop #" and automatically receive bus arrival times for your stop.
For example, if you're at stop 1454, you would text "LBT 1454." Be sure to include a space between LBT and your stop ID before sending.
We love engaging with our customers and featuring the best our community has to offer. Follow us for route guides, contests and giveaways and join the online community of fellow Transit fanatics.